Spring Term 4
Human and Physical Geography
Our Big question for the Spring term 4 is 'How are places different?' We are going to be Geographers, exploring and learning a lot about human and physical geography and comparing similarities and differences of different countries around the globe.
Our PE days this term will be on a Tuesday and Thursday. Please ensure your child wears their PE kit to school on these days. We have still got an awful lot of school jumpers that are not named – we cannot take responsibility for unnamed clothing, so it is essential that all school uniform is labelled clearly with their name.
Lockdown Learning

Spring 2021
Week 2 (1.3.21-5.3.21)
Friday 5th March
Thursday 4th March
Wednesday 3rd March
Tuesday 2nd March
Monday 1st March
Week 1 (22.2.21-26.2.21)
Friday 26th February 2021
Thursday 25th February
Wednesday 24th February
Tuesday 23rd February
Monday 22nd February
Spring Term 3
Week 6 (8.2.21-12.2.21)
Friday 12th February
Thursday 11th February
Wednesday 10th February
Tuesday 9th February
Monday 8th February
Week 5 (1.2.21-5.2.21)
Friday 5th February
Thursday 4th February
Wednesday 3rd February
Tuesday 2nd February
Monday 1st February
Week 4 (25.1.21-29.1.21)
Friday 29th January
Thursday 28th January
Wednesday 27th January
Tuesday 26th January
Monday 25th January
Week 3 (18.1.21-22.1.21)
Friday 22nd January
Thursday 21st January
Wednesday 20th January
Tuesday 19th January
Monday 18th January
Week 2 ( 11.1.21-15.1.21)
Friday 15th January
Thursday 14th January
Wednesday 13th January
Tuesday 12th January
Monday 11th January
Week 1 (4.1.21-8.1.21)
Fabulous learning from week 1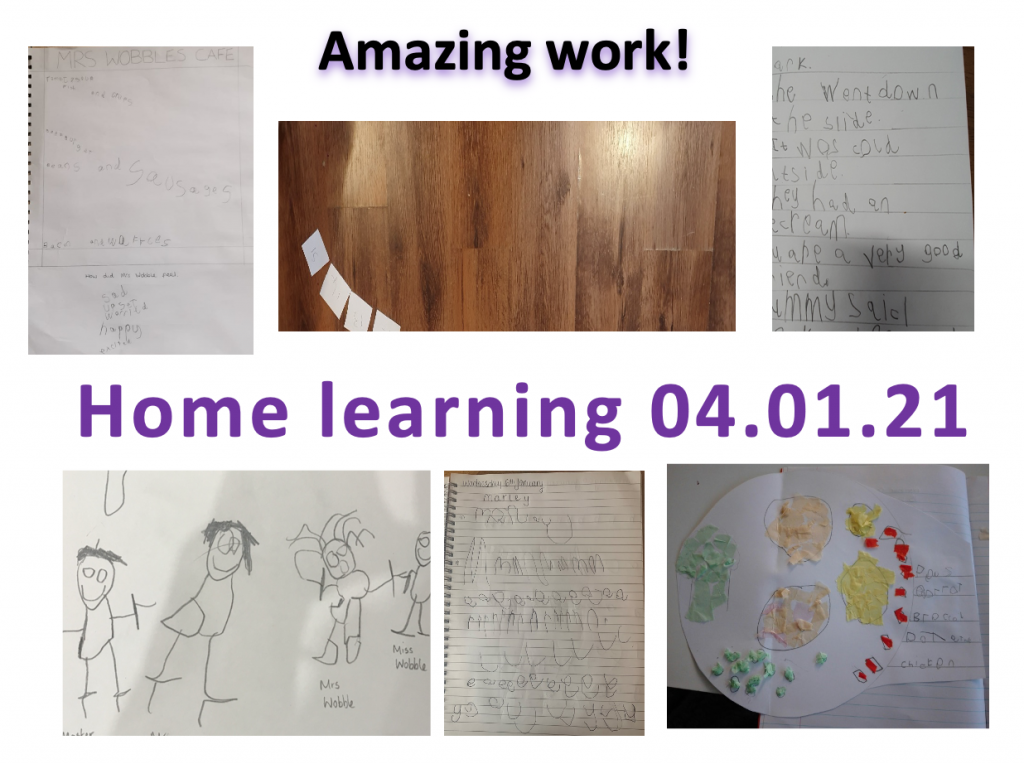 To be continued…
Take One Picture
Spring 1: Art, DT and Music
A Big welcome to Jade Class.
Welcome back, we hope you enjoyed the Christmas break.
Our topic for the Spring term 1 is Take One Picture. We will be joining Katie on an adventure, as she steps through some artwork in an art gallery. We will be exploring and learning with her about Claude Monet and different media and techniques as we paint, sculpt and construct our own masterpieces.
Our PE days are Tuesday and Thursday. So please come dressed in your PE kit and be prepared to stay in them all day.
For our topic learning we will be focusing on the following questions:
What is an artist?

Does an artist always use paints?

What different media could you use to create a piece of art work?

Who is Claude Monet?

What inspires his art work?

What is a sculpture?

How can you change how you create your art work for effect?

Can you name 2 different techniques you have learnt?

How has the Claude Monet influenced my art?

Which is your favourite Claude Monet painting and why?
Spring 1
Autumn Term 2
Autumn Term 1
I look forward to seeing you soon!
From Mrs Stone
Useful Links
https://www.bbc.co.uk/cbeebies/topics
https://www.ictgames.com/mobilePage/whackAMole/index.html