Governing Body
Welcome to the Governance section.
As the Chair of Governors, it gives me great pleasure in welcoming you to Corsham Regis Primary Academy. I lead a highly committed and active governing body who place inclusivity, care and wellbeing of pupils and staff at the heart of everything we do.
Our Vision is aligned with The Corsham School Academy Group. Corsham Regis will:
Promote the highest standards of teaching and learning and see them reflected in academic achievement
Use the evaluation and sharing of good practice to impact on teaching and learning
Commit to a balanced, enriched curriculum
Invest in, use and apply the best technologies
Provide a safe and calm environment in which all young people can learn, grow and develop values which strengthen a positive community
Encourage our students to be considerate, courteous and to show pride in their school
Stimulate the involvement and commitment of all parents and carers
Commit to the support and Continuing Professional Development of every member of staff
Provide high-quality facilities within a clean and well-managed environment.
The governing body comprises people from many different backgrounds, and it is our responsibility to provide strategic direction as well challenge and support the Senior Leadership Team.
This involves such things as:
Ensuring the wellness, health and safety of students and staff
Oversight of the School Improvement Plan
Ensuring the budget is well financed and spent for best value for all
Making sure that the curriculum is well balanced and enriched
Producing and reviewing school policies
Assisting with the appointment of staff
Monitoring and scrutinising levels of attendance and behaviour
Dealing with complaints against the school
All schools are measured on the amount of academic, social, and emotional progress pupils make and it is clear that the progress of the children in any school is heavily influenced by the support they receive at home as well as at school. Parents and carers are very much part of our school community, and we encourage you to get as involved as possible. Please reach out to the school if you would like to get more involved, either as a governor, supporting PTA events or any other capacity you can. All governors and trustees are recognisable by our black Governor lanyards, so next time you see one of us, have a chat.
Chris Denton, Chair of Governors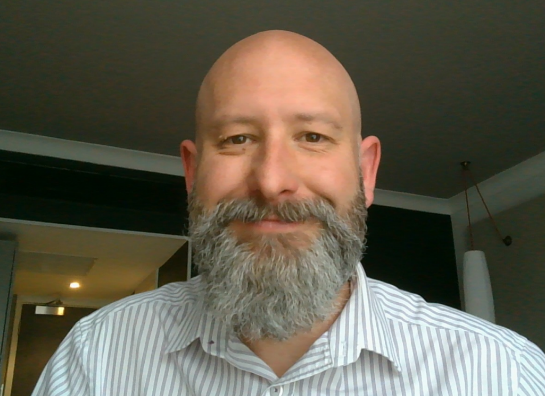 Anthony Monaghan, Parent Governor and Vice-Chair.
When not fulfilling my role as Vice-Chair of Governors, I'm a Senior Systems Engineer and Digitalisation Strategist at Siemens Mobility, working to improve the GB railway infrastructure. In my professional life, I'm always focused on solving problems, understanding 'why', and trying to make things a bit better. It's this curiosity that I want to help to pass on to children, and being a Governor allows me to help the school to achieve this."
Alan Brown, Co-Opted / Community Governor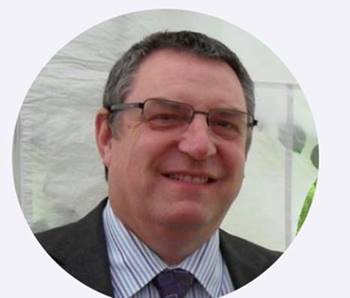 I am the Link Governor for SEND, Pupil Premium and Safeguarding. My reason for wanting to be a governor at the Corsham Regis School Academy are both personal and professional. As a child I attended the Regis school in the early sixties, when Mr Pearce was the headteacher, having lived in Corsham all my life my two daughters both went on to attend Corsham Regis, so the school has a special place in our family history.
From a professional point of view, after leaving school at 16 and completing an engineering apprenticeship in Westinghouse, I went on to have a 33-year career in teaching and management of teaching reaching Head of Department before retiring in 2017.
I joined the governing body of Regis in 2019 and get a lot of enjoyment and satisfaction from become involved in the life of the school, a governor's role is diverse, ranging from helping at the school disco to interviewing teachers for jobs. It really is a case of the more you put in the more you get out and I would encourage anyone who had an interesting the education of young people to consider becoming a governor.
Jess Bonser, Parent Governor
I am a parent Governor and have 2 boys at Regis, soon to be one as my eldest is in Year 6 and off to The Corsham School. I have always worked in Education, specialising in EYFS and I have worked in schools for most of my career. I worked for Wiltshire Local Authority within their Education Department for 2 years and still occasional adhoc work for them. I took time out from Education to be a full-time mummy when my boys were smaller. At present I enjoy the flexibility of working part time and being with my family. I became a Governor at Corsham Regis Primary 3 years ago and feel that my background and experience in Education is an asset to the Governing Body.
Victoria Naudi, Parent Governor
I have been a parent governor at Corsham Regis since September 2020. My daughter is in Year 5, and as she has moved through the school I have become more interested in how to support it and take a more active role, so when the opportunity came up to be a governor, I took it! I work in IT and am quite passionate about IT security, educating people about the risks and how to stay safe online. My background is in Drama and English though and I feel quite strongly about the importance of involvement in the arts. As a governor I am responsible for EYFS/KS1, and Maths across the school. If you see me at school and want to speak to me about anything, please feel free to do so anytime.
Robert (Bob) Hitchin, Co-Opted / Community Governor
I am a resident of Pickwick, Corsham for the past 32 years, having moved from Cheshire in the early eighties. My wife Christine and I have 3 grown up children who were all educated at local state schools prior going on to university. I am a retired Managing Director for a Scandinavian company and was responsible for exports to the U.K. & Ireland which involved extensive travel throughout Scandinavia , Europe & United States.
Although Corsham was predominately a dormitory for myself until my retirement, my family settled here very quickly and through Corsham Regis I would like to give back to the community some of what the community did for our family. After being here for this long, I don't think we have any intention of going elsewhere!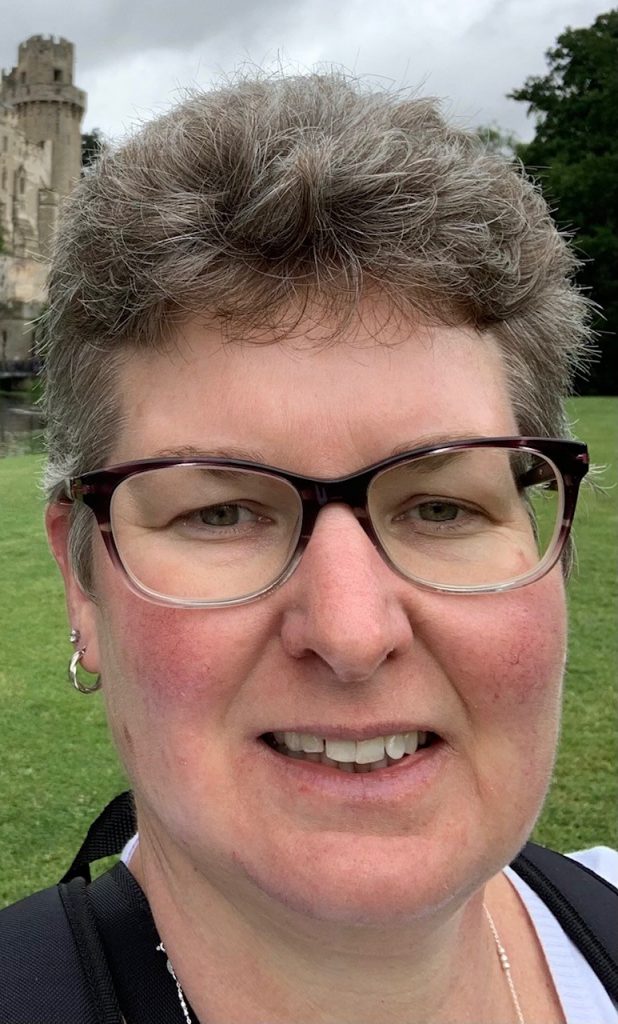 Hazel Smart, parent Governor
I am a parent Governor appointed at the start of the 2021/22 academic year.
I have a daughter in Year 4 who I have seen flourish into a well-rounded individual thanks to her outstanding education here at Regis.
I have always enjoyed being part of school life particularly accompanying the children on day trips and outings.
When I was approached to join the governing body I couldn't have been more pleased to contribute even more to the growth and progress of this fantastic well established local school.
I am responsible for Foundation/Key Stage 1 and SEND,PP and LAC.
Below is a table of Governors' Key Focus Areas for 2021-2022. We work in small committees in most cases so we can support each other in our roles.
Governance Professional: Michelle Hocking
Name
Status at School
Directorship/Trusteeship held or Employment
Any Financial Benefit Derived from Corsham Regis Primary Academy (except salaries if staff)?
Term of Office
Local Governing Body Meetings Attendance Record (2020/21)
Chris Denton
Parent Governor Chair of Governors
PPG – Chemical Manufacturer
None
27/09/2017 – 26/09/ 2021 – pre-approved renewal as Co-opted Governor
6 of 6
Abby Symons
Headteacher
Headteacher at the school
None
16/07/2018 – 15/07/2022
6 of 6
Anthony Monaghan
Parent Governor
Siemens Mobility Engineer
Wife is TA
20/12/2018 – 19/12/2022
6 of 6
Jessica Bonser
Co-opted Governor
Teacher (Wansdyke School)
None
14/01/2019 – 13/01/2023
6 of 6
Alan Brown
Co-opted Governor
Retired
Corsham Town Councillor. Education schools placement appeals panel member.
None
15/07/2019 – 14/07/2023
6 of 6
Robert Hitchin
Co-opted Governor
Retired
None
16/03/2020 – 15/03/2024
4 of 6
Antonia Ramsey

Associate
The Pound Arts Centre
None
14/09/2020 – 13/09/2024
4 of 5
Victoria Naudi
Parent Governor
Civil Servant
None
13/11/2020 – 12/11/2024
4 of 5
Past Governors (in post for some or all of the academic year 2020/21)
Name
Status at School
Directorship/Trusteeship held or Employment
Any Financial Benefit Derived from Corsham Regis Primary Academy (except salaries if staff)?
Term of Office
Local Governing Body Meetings Attendance Record (2020/21)
Keith Shepperson
Parent Governor Co-opted Governor
Teacher
None
Resigned 14/09/2020
1 of 6
Jacqui Wilmshurst
Staff Governor
TA at the school
None
01/10/18 – 08/09/2020
2 of 6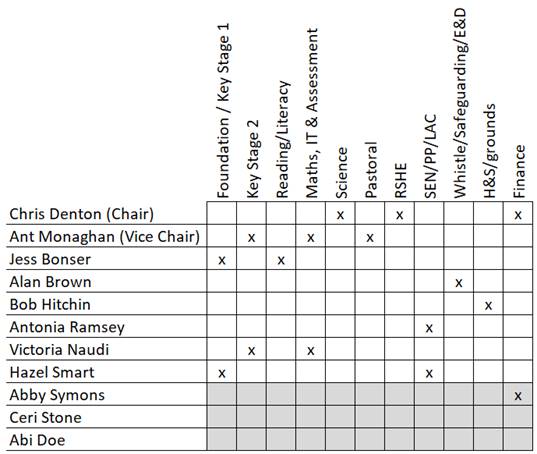 Meeting dates for 2021/2022:
9th November 2021
10th January 2022
14th March 2022
9th May 2022
11th July 2022
Documents:
Minutes are available upon request at the School Office.
THE-CORSHAM-SCHOOL-ACADEMY-GROUP-SCHEME-OF-DELEGATION-FRAMEWORKDownload
Details of our accounts can be found on the Governance section of our sponsors, The Corsham Academy School Group's website: https://www.corsham.wilts.sch.uk/page/?title=Policies+%26amp%3B+Accounts&pid=23
Contact the Governors
Should you wish to contact the governors, please email [email protected] or pass a note to the School Office. Our governors are also present in school/attend various school events and are very approachable!