Welcome to the Governance section.
As the Chair of Governors, it gives me great pleasure in welcoming you to Corsham Regis Primary Academy. I lead a highly committed and active governing body who place inclusivity, care and wellbeing of pupils and staff at the heart of everything we do.
Our Vision for the school is to:
Improve outcomes for all children through quality teaching and learning
Increase the number of children we teach to have eight full classrooms
To develop sustainable and high quality leadership throughout the school
Continue to provide an inspiring and collaborative environment for all
The governing body is comprised of people from all different backgrounds, from education to the private sector. It is our job to provide Strategic direction and leadership to the school and to challenge and support Mr Spicer and the Senior Leadership Team. The care and support the school offers pupils to learn in a safe and vibrant environment is central to our ethos at Regis; something I am immensely proud of.
All schools are measured on the amount of academic, social and emotional progress pupils make and it's clear that children's progress in any school is heavily influenced by the support they receive at home as well as at school. As parents and carers, you are very much part of our school community and we encourage you to get as involved as possible. Please reach out to the school if you wold like to get more involved, either as a governor, supporting PTA events or any other capacity you can.
Mr Chris Denton, Chair of the Corsham Regis Local Governing Body
The Full Governing Board are:
Chris Denton (Chair)
Anthony Monaghan (Vice Chair)
Abby Symons (Acting Head Teacher)
Jacqui Wilmshurst (Staff Governor)
Anthony Monaghan (KS1 Governor)
Jess Bonser (Early Years Governor)
Keith Shepperson (KS2 Governor)
Alan Brown (Designated Governor for Safeguarding, Whistle Blowing Governor and SEND)
Bob Hitchin (Health and Safety Governor)
The Finance Sub-Committee (who meet jointly with representatives of The Corsham School) are:
Abby Symons
Chris Denton
Clerk to the Governors: Michelle Hocking
Minutes are available upon request at the School Office.
Meeting dates for 2019/20
Monday 16th September at 6:00pm
Monday 11th November at 6:00pm
Monday 13th January at 6:00pm
Monday 16th March at 6:00pm
Monday 11th May at 6:00pm
Monday 13th July at 6:00pm
Details of our accounts can be found on the Governance section of our sponsors, The Corsham Academy School Group's website https://www.corsham.wilts.sch.uk/page/?title=Policies+%26amp%3B+Accounts&pid=23
Governor Key Focus areas for 3 – 5 years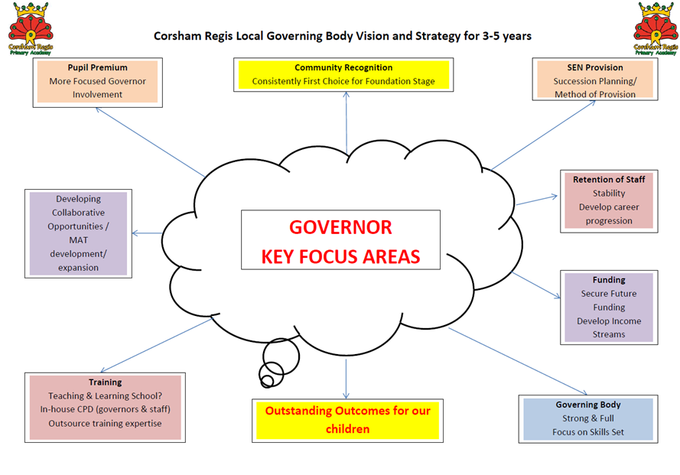 Contact the Governors
Should you wish to contact the governors, please:
email [email protected] or pass a note via the Governors' Comments Box in the School Office, or the Suggestions Box in the entrance foyer
Our governors are also present in school/attend various school events and are very approachable!
Register of business Interests for Governors September 2020
* excludes staff salaries
| | | | | | |
| --- | --- | --- | --- | --- | --- |
| Name | Status at School | Directorship/Trusteeship held or Employment | Any Financial Benefit Derived from Corsham Regis Primary Academy (except salaries if staff)? | Term of Office | Local Governing Body Meetings Attendance Record (2019/20) |
| Chris Denton | Parent Governor Chair of Governors | PPG – Chemical Manufacturer | None | 27/09/2017 – 26/09/ 2021 | 6 of 6 |
| Abby Symons | Acting Headteacher | Acting Headteacher at the school | None | 16/07/2018 – 15/07/2022 | 5 of 6 |
| Jacqui Wilmshurst | Staff Governor | TA at the school | None | 01/10/18 – 30/09/2022 | 2 of 6 |
| Anthony Monaghan | Parent Governor | Siemens Mobility Engineer | None | 20/12/2018 – 19/12/2022 | 6 of 6 |
| Jessica Bonser | Co-opted Governor | Teacher (another school) | None | 14/01/2019 – 13/01/2023 | 5 of 6 |
| Alan Brown | Co-opted Governor | Retired | None | 15/07/2019 – 14/07/2023 | 6 of 6 |
| Robert Hitchin | Co-opted Governor | Retired | None | 16/03/2020 – 15/03/2024 | 3 of 3 |
| Antonia Ramsey | Co-opted Governor | | | 14/09/2020 – 13/09/2024 | N/A |
Past Governors (in post for some or all of the academic year 2018/19)
Name
Status at School
Directorship/Trusteeship held or Employment
Any Financial Benefit Derived from Corsham Regis Primary Academy (except salaries if staff)?
Term of Office
Local Governing Body Meetings Attendance Record (2019/20)
Suzanne Vigus
Community/Co-opted Governor
Carer/Student
None
Resigned 05/03/3030
1 of 4
Philip Hilling
Parent Governor
None
None
Resigned 16/03/2020
1 of 3
Gareth Spicer
Headteacher Staff Governor
Headteacher, Corsham Regis Primary Academy
Director, The Corsham School Academy Group
None
02/09/2014 (ex officio)
6 of 6
Keith Shepperson
Parent Governor Co-opted Governor
Teacher
None
Resigned 14/09/2020
5 of 6