Events
Tracking our Regis Runners as they head up the country 21st May 2021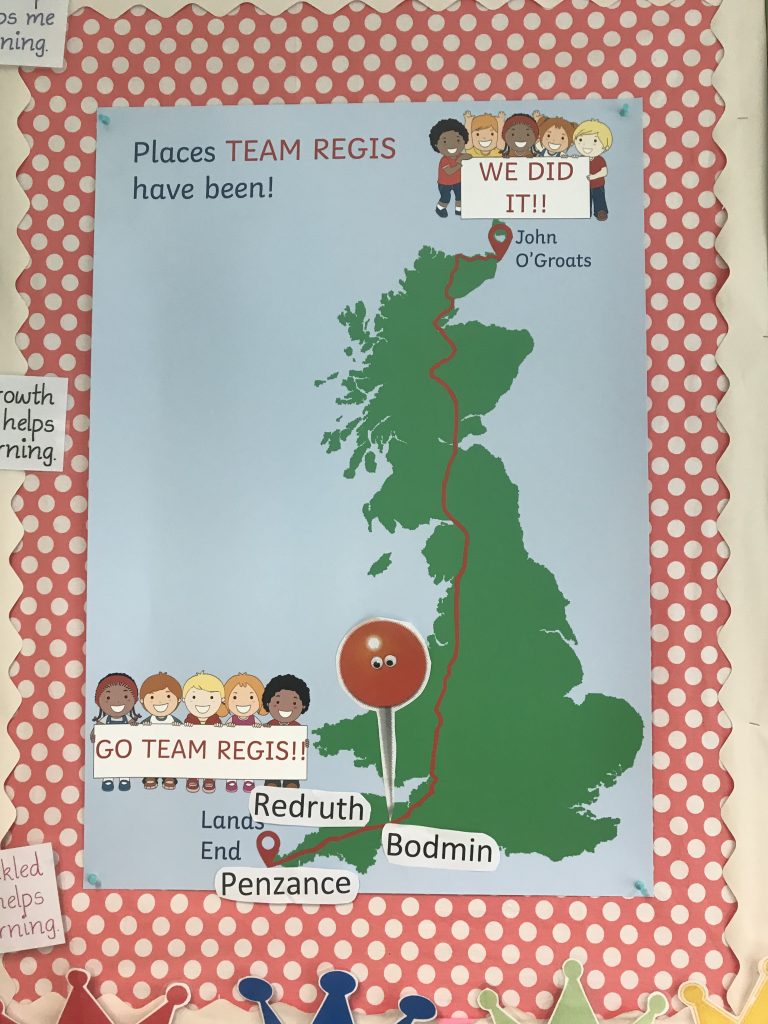 Team Regis Go the Distance – our virtual running challenge 2021
We've missed seeing the Team Regis runners' happy, determined faces in the Corsham 2K (hard to believe it was 2019 when it last went ahead), so to keep active and raise some funds for our school, we're undertaking a virtual run as a whole school team from Lands End to John O'Groats!
Our route is a staggering 1,530km (950.7 miles). But we're confident we can make it with your help. Running in and out of school all count and it's easy to get involved in four simple steps…
1) Download the free Myles app and join our group challenge "Team Regis Go the Distance" using the link https://a.myleschallenges.com/applink/9pGustv787hdsx5J9
2) Open the challenge and track your activity manually by clicking on the three dots in the top corner of the screen and "record activity". Only the children's miles count – so if you run a mile with two children, track 2 miles. Or if you're a teacher and your class all run a mile in their PE lesson, track 30 miles.
3) If you want to get involved, but don't want to run yourself, some tips of places you could go to cheer on your children whilst keeping them in sight include the Springfield track (400m loop, 4 laps is a mile) or the length of the Avenue by Corsham Court is 0.34km. (You can record in km or miles).
4) To keep the team motivated, please consider sponsoring the team. Friends of Regis' funds are running low after not being able to run our usual fundraisers for over a year and continuing to provide activities, resources and equipment for the children. The team fundraising page is: https://wonderful.org/fundraisers/91
We'll keep you updated as we progress – virtually – from Lands End to John O'Groats! In fact we have already got the first kilometre under our belt….only 1529 more to go. We've even got our first donation already too.
Thank you as ever for your support!
Our next big event is the Corsham 2K/10K which has been delayed from April 2020 to September 2021 due to the pandemic. More information to follow. We're looking forward to cheering on our fabulous team!
Meanwhile, take part in our Christmas 2020 hamper raffle. Tickets are £1 each – send money in a named envelope to the class teacher by Friday 11th December. For more information, see the information sent out by Seesaw and email.
Fundraising
The Big PTA Christmas Raffle 2020 – there are 12 chances to win £5,000!! We receive 50% of the ticket sales, with the remainder covering prize funds and organisation. To take part and support our school, see https://www.bigptaraffle.co.uk/support/corsham-regis-primary-school-sn13
The Giving Machine:
https://www.thegivingmachine.co.uk/causes/the-corsham-regis-primary-academy/
Help us raise free donations for Corsham Regis Primary Academy whenever you shop online with The Giving Machine. Whether you are booking a holiday, doing your weekly grocery shop or searching for that perfect gift, by using The Giving Machine you will generate cash donations for the school without it costing you a penny. There are thousands of popular retailers using the scheme, from Amazon and eBay to Sainsbury's and John Lewis – and several holiday companies too. Register today – and to ensure you don't miss an opportunity to raise free £££ you can download the handy Shop&Give reminder.
AGM and Committee
Newsletters