Corsham Regis School History
In the 1889 Ordinance Survey map there were only green fields next to Priory Street (then known as Priory Lane). Corsham was still separated from Pickwick and there were only a few streets that made up the town as we know it today.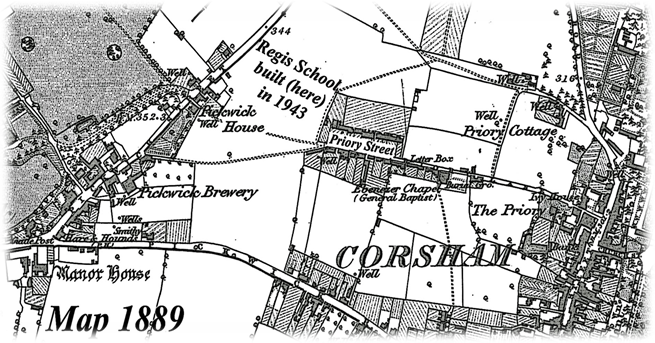 CORSHAM REGIS: the name Corsham is believed to be derived from Cosan-ham, 'home of Cosa or Cusa or Cossa's ham. 'Ham' is a special English word with the primary meaning of 'home', but can also be used to describe a dwelling-place, village or manor.
The name has changed many times over the centuries e.g. In 1001 it was known as Coseham; 1086 Cosseham and as Cosham as late as 1611. At one time, the town was called 'Corsham Regis', due to its association with Anglo-Saxon Ethelred of Wessex (King Ethelred) who was a Chief Tenant here [Domesday Book] and the name Regis remains proudly associated with our school.
In 1931 Corsham had a population of just 3,754. In 1941 a deluge of workers and their families arrived in Corsham to help with the Second World War (WWII) effort. They were mainly employed in the underground Ministry of Aircraft Production (MAP) and Birmingham Small Arms factories at Spring Quarry along with the Central Ammunition Depots (CADs) in Tunnel Quarry (Hudswell) and Ridge Quarry (Neston). The town's population rose in just a few years to nearly triple at 9,268. In the last census of 2011, Corsham's population was 13,432.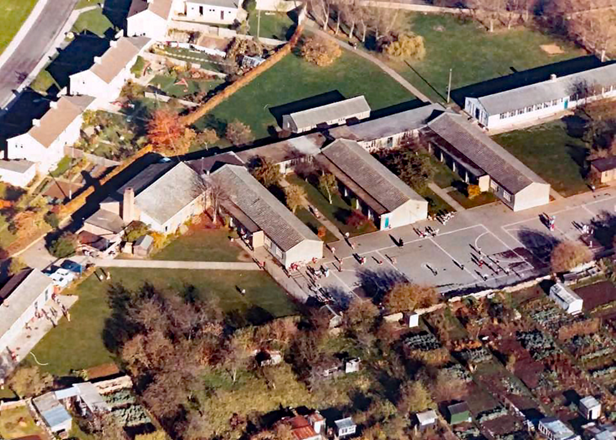 THE REGIS SCHOOL:
To alleviate the burden on the existing schools, the new Regis School was built alongside what we know now as King's Avenue, on the WWII Married Quarters pre-fabricated bungalows site (MQ1B), with Mr. H. Hull as its first Headmaster.
The school opened on 3 May 1943 with 194 children attending on the first day and a large number absent due to measles and whooping cough.
There was some disparity to start with, as the children of existing Corsham residents could start school at 4 years of age, whilst those of the WWII families who had been brought in from Bristol, Plymouth, South Wales and Cornwall were not allowed to start school until aged 5. By September 1944 there were 433 pupils on the register.
It remained an Elementary School accommodating children from reception until 14 years old. In 1955 it became a Junior School. The older pupils were now transferred to Corsham Secondary Modern School.
1963 saw a complete rebuild of the Kings Avenue estate, replacing the old prefab bungalows with new council houses.
In 1980 plans were submitted for the old school buildings to be replaced. This resulted in the school being completely rebuilt using modern standards to serve the community and cost £529,000 (£1.3m in today's money). We are now known as the Corsham Regis Primary Academy.
The new school opened for pupils on 15/16 July 1982, however, the 'official' opening took place on 5 November 1982 by former headmaster Mr Kenneth Hopwood (who had recently moved a year ago to a new post in North Yorkshire).
The headmaster in 1982 was Mr David Beer and the school now had 252 pupils.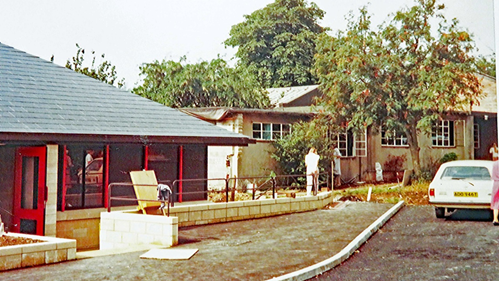 Further teaching spaces have since been added to the building, i.e. a new staff room, an atrium style library area and a full ICT suite.
This newest part of the school was opened by Camilla, Duchess of Cornwall in December 2010.
The school remains central to the community and continues to provide spacious accommodation for our children. The area where Light Close is today was called Cherry Orchards and was originally earmarked to be the school's playing field. But the Corsham Parish Council was unaware of this and ploughed up the field into allotments to help the WWII effort. The Regis School playing fields were subsequently constructed on the opposite side of the road from the school. This field has been reserved and protected from development.