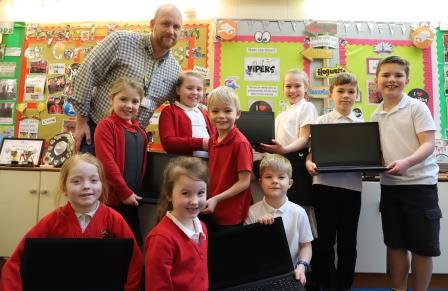 Children at a school in Wiltshire are getting a digital boost for the New Year thanks to a donation of computer equipment from Corsham Institute.
The pupils at Corsham Regis Primary School have been presented with fifteen high specification laptops from the Institute which is based at Hartham Park near Corsham.
The laptops are being donated to the school in the hope that it will help boost digital skills among young children and encourage a greater interest in STEM subjects. Corsham Institute was created in 2013 and aims to create a fair and inclusive digital future for all.
Corsham's Institute's Director, Trevor Reid, said "Having good digital skills is an essential part of most roles in the workplace and we hope that these laptops will inspire more young people to get to grips with computing, coding and developing a better understanding of the roles and careers they might be interested in, later in life."
Research currently being carried out by Corsham Institute is looking into employee skills in the work place.
Trevor added, "Anecdotally we know that many people are leaving education without the skills they need in the new digital workplace. This is a challenge for both job applicants and employers. We are now looking into how widespread this issue is around the UK."
"The donation of these laptops is one small part in helping ensure that future school leavers are equipped with the skills they need."
Gareth Spicer, Headteacher, said "We are so pleased with this generous donation from Corsham Institute. Digital skills are an increasingly important part of students' lives and developing skillsets around that is essential."
To find out more about Corsham Institute's work, visit www.corshaminstitute.org